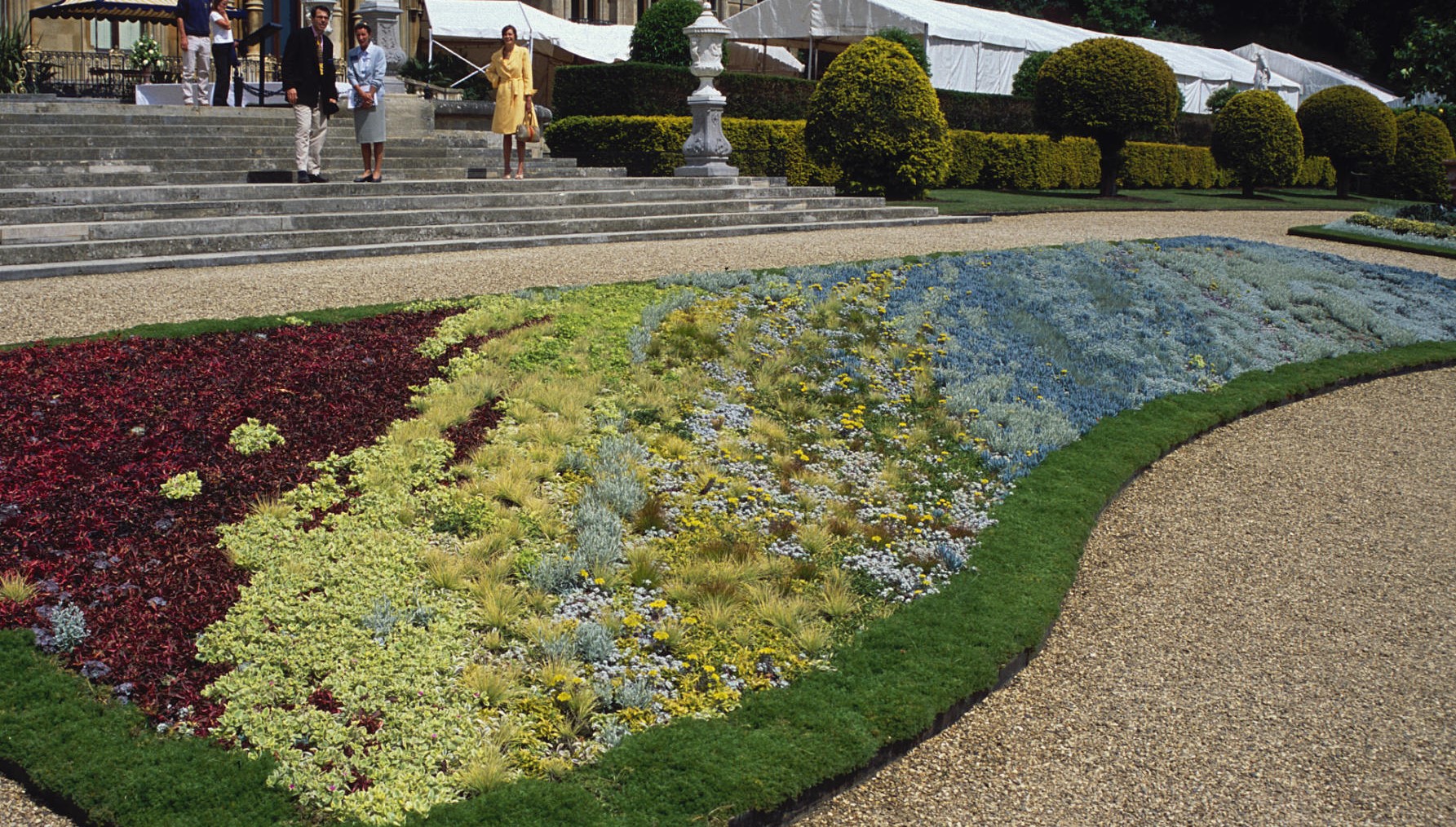 A Palette of Plants and Canvas of Soil – by Bruce Harnett – written 2001.
Whilst devouring canapés at the unveiling of Waddesdon Manor's parterre for 2000, I overheard several comments about the inordinate length of time it must take to create such a magnificent display using little plants. Well, those concerned would of course be absolutely correct about the artistic and painstaking task, if indeed gardeners had marked out and placed sixty thousand individual plants into the beds according to a set pattern. Michael Walker, the head gardener of Waddesdon Manor gardens in Buckinghamshire, recalls only too well the spring of 1997 when four gardeners and a group of students were suspended over the beds on wooden planks for five back-breaking weeks. In the year 2000 however, as for the past three years, the concept of planting bedding has taken on a completely new meaning and gardeners at Waddesdon, like hundreds of others around the country have been getting away rather lightly, due to a fantastic innovation in the world of carpet bedding – InstaPlant®.
Like so many clever inventions, this breakthrough, devised by Richard Harnett, an ornamental plant nursery owner, is inspiringly simple. InstaPlant® is a new product which utilises Victorian techniques of bedding arrangement and brings them into the twenty first century, aided by computer design technology and new cultural expertise. Like the Victorian's, the system uses coloured dwarf succulents such as Sedum, Echeveria and Sempervivum with low growing and creeping foliage plants, including Aptenia (Mesembryanthemum), Alternanthera and Arabis. The Victorians exploited the fact that small plants such as these were particularly useful, due to their ability to help create and maintain intricate patterns in display beds, for extended periods of time.
Instead of planting the plants in situ, as per the traditional method, InstaPlant® uses large greenhouses at Richard's nursery, Kernock Park Plants situated in the Cornish countryside. As well as propagating the bedding plants which constitute the diverse palette of colour and texture, the nursery is also used to actually construct the finished displays. To do this, between 60 and 100 "plug plants" are inserted into 30×50 cm trays of wet compost, either sedge-peat or coir depending on customer requirements. Plants are positioned in the trays like little spots of paint, according to planting sheets derived from a computer manned by Richard's son Chris. So, every- one involved on the nursery knows precisely how many plants of which variety are required and where to insert them, in order to translate original designs and ideas into reality. A total carpet cover is obtained as the plugs root and grow to fill the trays.
The compost in the trays dries slowly over a few weeks as the plants root through a thin fleece material on the base, to produce solid tiles of compost and plants. Before delivery, each display is trimmed and cleaned for maximum effect.
The pre-established trays can therefore be transported from Cornwall directly to the customer on Danish trolleys, which are ready to roll off the lorry. The tiles can then be slipped onto the bed from the trays, which are numbered in accordance with a master-plan. During installation, works of art emerge in a matter of hours before everyone's eyes. Many recipients have likened it to laying carpet tiles, or piecing together an easy jigsaw. The advantages of InstaPlant® are self evident for anyone even remotely involved in carpet bedding or panel gardening schemes. Design and production costs are in the region of £130 per square metre depending on the complexity of design and difficulties envisaged during planting. The glasshouse environment which is provided for the displays while they grow into shape, enables the plants to be protected during the potential frost period of late spring. The fully grown displays can therefore be inserted into position in their finished state as soon as the threat of frost has passed. The total cover offered by the tiles helps to suppress weeds already in the bed and controlled growing conditions provided during the crucial early stage also helps to reduce the incidence and severity of pests, disease and weeds in general. Trimming requirements are kept to a minimum as most plant varieties used are treated with a chemical growth retardant. With such advances, maintenance is therefore diminished considerably. Even where customers decide to test their traditional planting expertise, many are turning to InstaPlant® design software, to calculate exact numbers of chosen plant required. This means that they are not left with significant quantities of surplus material.
Waddesdon Manor gardens are a prime example of a garden and parterre which was seriously threatened in the twentieth century. As with so many gardens of its kind, skills and time required to create extravagant carpet bedding displays through traditional means has become virtually non-existent. A restoration attempt instigated by Lord Rothschild and co-ordinated by his daughter, Beth Rothchild overcame the threats posed with the help of InstaPlant®. For the past three years, the parterre has been brought a new lease of life, with inspiration for the last two displays provided by artist John Hubbard. Lord Rothschild commissioned the internationally renowned artist, in much the same way as French branch of the family have appointed famous artists to design the wine label for every new vintage of Château Mouton-Rothschild, since the Baron Philippe de Rothschild in 1924. For summer 2000, John conjured up an abstract landscape watercolour for two facing beds on the parterre, to compliment the central water feature.
With a certain amount of interpretation from John and those at Waddesdon, Chris was given the task of transferring each stroke of the artists brush into plants. This year Waddesdon are welcoming the dawn of the new millennium, with a design by Oscar de la Renta, which will be on display from mid June. Chris has spent many hours last winter undertaking a similar feat for Oscar's crayons as he did for John's paintbrush.
All things considered, it would appear that bedding in general is embarking on a revolution. In the days of Queen Victoria, the size and extravagance of ones carpet bedding was a measure of wealth and nobility. With several notable exceptions, it is true that we so often see half-hearted remnants of carpet bedding displays in municipal parks, beside civic centres or on promenades along the sea-front. But even floral clocks and "Welcome to…." displays have been given the kiss-of-life with the ability to create intricate pictures and ornate patterns previously unattainable. The traditionally intensive high skill element, has effectively been transformed into modern age techniques, whilst reviving the memories of conventional methods and retaining plant varieties, all but lost in time.
This modern interpretation of a nineteenth century fashion is thought to compliment the minimalist trend and movement towards beautifying our open spaces perfectly. Whilst Richard Harnett is aware that this direction could be detrimental for commodity lines of his ornamental plant business, he is ready to move into a new era with a vengeance. The use of carpet bedding and InstaPlant® will surely play a major role in shaping the minds of many a gardener and landscaper over the next decade.
PayPal Accepted


Most preferred way to pay online in the UK. Pay online without entering sensitive information.
© 2018 Kernock Park Plants Ltd. All rights reserved.
This web site is owned and operated by Kernock Park Plants Ltd. Company registration No. 03297350.
If you have any suggestions or comments or if you need to contact us, please email us on sales@kernock.co.uk.
VAT Registration Number 326 7561 45, Pillaton, Saltash, Cornwall, PL12 6RY, EU Plant/Quality Passport UK/EW 20268.
Prices exclude VAT (Charged at 20%) unless otherwise stated. Terms & Conds | Privacy Policy | Site Map |